Historical monuments, natural beauties, cultural gems, traditions and gastronomic specialties of the Czech Republic. All this can currently residents of Slovakia get to know. And that is thanks to the television series of gastronomic travelogues Tasty Czechia. Four episodes will guide viewers through Olomouc, South Moravian, Zlín and South Bohemian Region.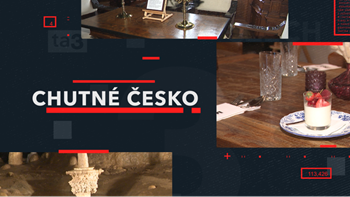 These are mini programs that Slovak television TA3 broadcasts on Tuesdays, then in reruns on Thursdays and Saturdays. All with the aim of awakening desire to know and taste the Czech Republic.
"Slovaks are leading the visitor charts of the Czech Republic, 61,000 of them have come to us in October this year, which meant the second largest group of foreign guests after Germany. We are trying to further support the interest of foreigners in travelling to Czechia, as the
latest figures on hotel attendance
are showing that, compared to pre-Covid October 2019, there were still 25% fewer foreign tourists,"
says
Director of the Czech Tourism Authority - CzechTourism, Jan Herget
and adds:
"With Slovakia, it seems like an invitation for us to be a holiday destination for Slovak residents, we have a common history and an insight into a number of things. That's also why, among other things, we have prepared a special page for the current winter tourist season on our Kudy z nudy portal called
Science and history is not boring: Czechia versus Slovakia, or what unites and divides us?
So, take a look at it!"
The mini gastro travelogues Tasty Czechia on TA3 are another fragment in the mosaic of reasons why Slovaks should/could
explore Czechia.
"Travel is primarily about visuality and visual perception. That's why we decided to collaborate with TA3 television and offer viewers an attractive invitation, to arouse in them desire to travel and truly experience Czechia with all the senses,"
says
Nora Gill
,
Director of the Foreign Representation of the CzechTourism agency in Slovakia
.
In the first episode, the audience visited
Olomouc
with its historical centre, they got to know
Bouzov castle
or the
handmade paper production in Velké Losiny
. Since the travelogue also includes a regional gastro recipe, there was no shortage of instructions for the preparation of the local specialty - tartare made from Olomouc cottage cheese. Another mini program presents South Moravia, the birthplace of
Alfons Mucha
.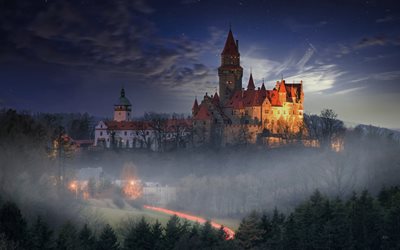 The television, among other things, is inviting for a trip to
Moravský Krumlov
with the
Slav Epic
or to
Sloupsko - Šošůvské caves
. Also, to the
blueprint
, which is on the
UNESCO
list. And a regional recipe? Ivančice asparagus in the form of sweet panna cotta. In the third episode, viewers get to know the Zlín Region in particular. Specifically,
Bata's town
, monument and department store, as well as the
Wallachian Museum in nature
with the
hermitages - shelters Libušín and Maměnka
, the bard of Slovak architecture,
Dušan Jurkovič
. South Bohemia is represented in the fourth part by
Český Krumlov
and
Třeboň
, same as the famous carp fries recipe.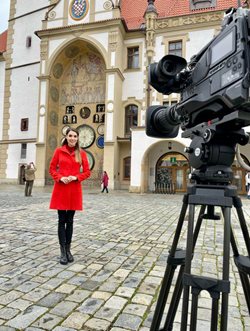 "Filming the show was a pleasant diversion of my up to now work. We saw a lot of interesting places, and because I like to cook, I really enjoyed preparing regional recipes. I believe that we will also inspire our viewers to do so," says host of Tasty Czechia on TA3, Simona Frantová
The gastronomic travelogue Tasty Czechia premieres in Slovakia on TA3 from December 6 to 20, 2022. The campaign watched
9,972 people
on networks on the day of the premiere, and the
first episode alone recorded 90,000 viewers on television
. Broadcasted programs:
Olomouc Region
,
South Moravia
and
East Moravia
.